Kol Ami means "All My People". Temple Kol Ami of Fort Mill, SC is a Reform synagogue that strives to be a voice for the diverse Jewish community of Greater York County, SC and South Charlotte, welcoming families and individuals from all walks of Jewish life. We are a warm and inclusive congregation comprised of Jews from more traditional backgrounds, interfaith couples and families as well as those who may be rediscovering their  faith.  As a community we celebrate and embrace the joys of Judaism through ritual, culture and religious education. We are proud of our thriving Religious School, the largest in York County!
Join us for Shabbat service the first and third Friday of every month at 7 PM in the Historic Sanctuary of Unity Presbyterian, 303 Tom Hall Street, Fort Mill, SC.  We invite you to add your voice to our congregation!
***Please note: August and September service schedule does vary from the norm- please check the calendar! Normal schedule resumes in October!***
---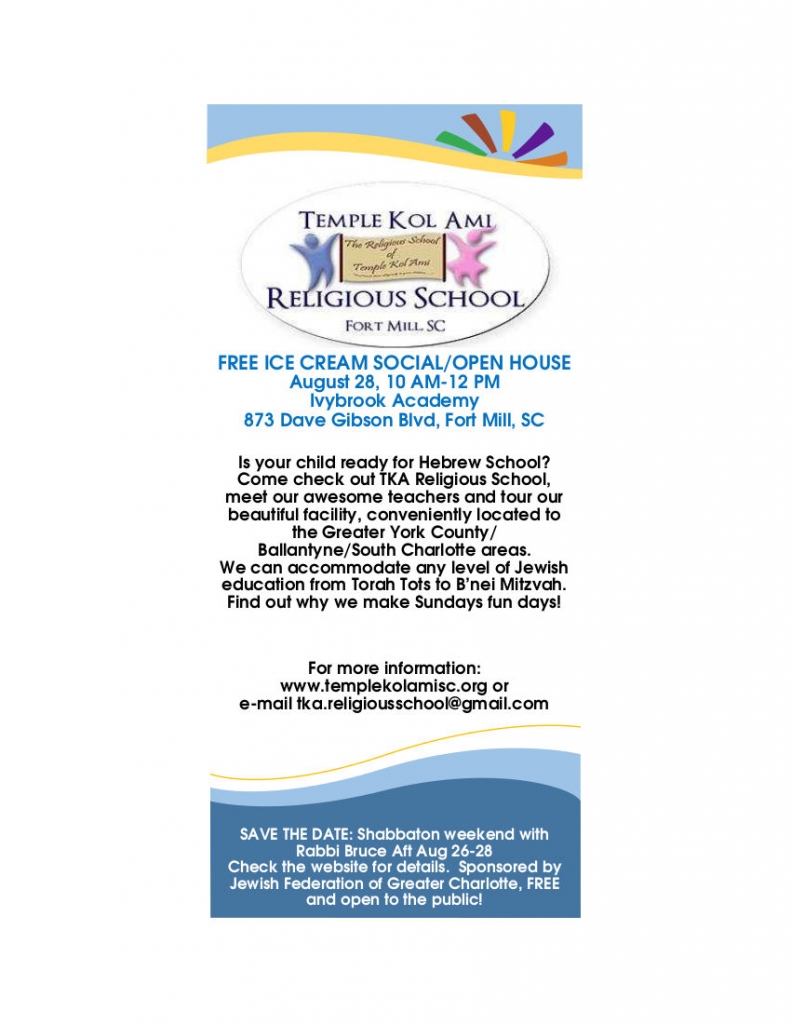 ---
SHABBATONS COMING TO YORK COUNTY!

Rabbi Bruce Aft Returns August 26-28!
Temple Kol Ami is thrilled that we have been awarded a 2016 Impact and Innovation Fund grant by the Jewish Federation of Greater Charlotte. With this grant, TKA will be partnering with the Institute of Southern Jewish Life's Rabbi on the Road program to bring quarterly rabbinic visits to York County. Each "Shabbaton" will consist of Friday night service, Torah study and cultural programming/havdalah as well as religious school education. Rabbi Bruce Aft will be joining us August 26-28 for a weekend of prayer, education and cultural enrichment! Please mark your calendars and plan to join us for any and all events which are always free and open to the community thanks to the generous funding of the Federation. Please see our calendar for details on all the activities!