Welcome to Temple Kol Ami
FORT MILL, S.C. (CN2 NEWS) Jewish families and many others are still trying to come to terms with the heinous shooting at Pittsburg's Tree of Life Synagogue. This past Friday was the first Shabbat since the deadly attack and Fort Mill's Jewish community was met with support from other groups of faith in the area. They joined for a service that didn't talk about the darkness. Instead, CN2's Indira Eskieva with how love prevails.
View the video story here https://www.cn2.com/love-prevails-first-shabbat-since-deadly-attack/
---
Kol Ami means "All My People". Temple Kol Ami of Fort Mill, SC is a Reform synagogue that strives to be a voice for the diverse Jewish community of Greater York County, SC and South Charlotte, welcoming families and individuals from all walks of Jewish life. We are a warm and inclusive congregation comprised of Jews from more traditional backgrounds, interfaith couples and families as well as those who may be rediscovering their  faith.  As a community we celebrate and embrace the joys of Judaism through ritual, culture and religious education. We are proud of our thriving Religious School, the largest in York County!
Join us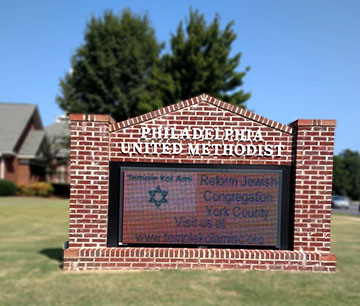 for Shabbat service the first and third Friday of every month at Philadelphia United Methodist Church, 1691 Highway 160 West, Fort Mill, SC at 7 PM. We invite you to add your voice to our congregation!
We are growing!  Our religious school has moved to Walnut Grove Christian School!  Our new religious school address is: 1036 Maxwell Mill Road, Fort Mill, SC 29708
***PLEASE NOTE: Although we generally follow the 1st/3rd Friday schedule, there may occasionally be a change to the Shabbat service schedule.  Please carefully check our Temple calendar for dates of upcoming Shabbat services.***
---